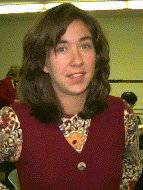 JENNIFER DONALDSON
Education and Background
I spent the first 18 years of my life growing up in Williamsburg Va., before heading off to college in another historic town, Lexington, Va.
I received my BA in English from Washington and Lee University in 1992 and spent a year exploring career options before deciding to work in the public school systems as a school media specialist. This role suits me well since I frequently find myself playing ringleader in whatever setting I'm in. The library is the learning center of the school and its use should be administered accordingly. I can think of nothing more exciting than working together with each of the teachers in my school to integrate the library's resources into the curriculum in a meaningful way. This is essential if students are being prepared to function independently in a society recently dubbed the "information age". The passive role the library has traditionally played in the schools must change!
I am currently working towards my Masters in Library Science at the University of North Carolina-Chapel Hill, as well as my North Carolina School Media Certification. I plan to be finished by May of 1996. Recent Activities
Graduate Assistant, Wilson Library Maps Collection
Library Assistant, Carrboro Public Library
Library Assistant, Frank Porter Graham Elementary
Treasurer, Information and Library Science Student Association
Delegate, Graduate and Professional Student Association
Member, American Library Association Interests
My interests and hobbies are widespread, as befits someone with a liberal arts background. I enjoy preparing and implementing storyhours and am currently learning to play the banjo. I most recently resided in Colorado where I could ski and hike year round. I worked in my local public library out there which lead me to decide to move to Chapel Hill for Graduate school. I read anything and everything all the time, but getting outside everyday helps me keep my perspective and sanity.