Melva Scott
mscott1@email.unc.edu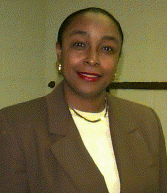 Melva Scott graduated from North Carolina Central University in 1971 with a B.A. degree in Secondary English Education. In 1977 she completed the course offerings at the University of North Carolina at Chapel Hill to obtain certification in Gifted Education. She continued her graduate studies at North Carolina Central University to obtain the M.Ed. Degree in Special Education -- Emotionally Disturbed. Presently, she is enrolled in the Doctor of Education Program in Educational Leadership at the University of North Carolina at Chapel Hill.

Melva has 23 years experience in public education. She has served 12 years at the high school level, 3 years at the middle school level and 8 years at the elementary level. Melva began her career in education as a Secondary English Teacher in Durham City Schools. While in this role, she became interested in all areas of exceptionalities in special education. After three years at the high school level, she moved to the elementary level to design and implement newly state mandated programs for elementary gifted students. She served as an itinerant resource teacher for two elementary schools grades 4-6. When the family moved to Centerville, Ohio, Melva was instantly hired by the Centerville School District to serve on a newly constructed team of five people to develop a federally funded gifted program for the school district. In this capacity she designed and delivered workshops for classroom teachers; developed standards for identification and selection of gifted students in grades K-12; developed and implemented special curriculum units for gifted students in grades 6-8; coordinated community resources to be used with facilitative teaching methods; collected and analyzed data in program procedures and progress. After three years in Ohio, the family moved back to North Carolina and Melva was re-hired by the Durham system as a Secondary English Teacher for Gifted Students. After one year she returned to the elementary gifted program. During her tenure at this level, she served with a team to restructure the district's K-5 gifted program into a K-3 consultative model and a 4-5 direct service model. After four years, Melva returned again to the high school gifted program for 8 years until her recent admission into the Ed.D. Program in Educational Leadership at UNC-CH.

During Melva's last tenure at the high school level, she developed an interest in Educational Leadership after being asked to chair the building level Teacher Advisory Council. She went on to become the School-Based Staff Developer and was selected as a participant in the first course offered by Durham Public Schools' Leadership Development Institute titled "School Leadership for the 21st Century".

Educational Leadership is a serious endeavor for now and the future. Melva is very cognizant of the challenges that exist to lead schools in the 21st century. Despite the current ills that plague the public schools of America, Melva knows that it is an exciting time to be serving in public education. The restructuring/reform movement in education requires someone to help lead these efforts. Melva's tenacity, perseverance, flexibility, commitment, educational experience and educational knowledge will help foster the spirit of continuous change to enhance student achievement in the state of North Carolina.